Features
Its 50% larger frame, 6 legs, 6 rims, and 1 larger ball will make it much easier to learn basics.
What's Included
-One XL Net. 45" diameter vs 36" diameter on standard net
-One XL Ball. 6.5" diameter vs 3.5" diameter on standard ball
-One carrying bag
-One Rule book
Shipping
SHIPS IN SPIKEBALL BRANDED BOX. Choose "incognito shipping" during checkout to have your shipment wrapped. Don't let UPS ruin a surprise.
Customer Reviews
Write a Review
Ask a Question
07/03/2020
Brian R.
United States
Not very portable
Great to get started, not the most portable.
03/01/2020
Evan A.
United States
Ideal for kids
I bought 6 rookie kits to use for a PE unit for 5th and 6th graders. After a week of classes (900 students played), the kits took a beating. I looked at the warranty and was blown away that there is a LIFETIME replacement on broken pieces. This was my dream come true. Customer support replaced my 4 broken legs and I had them in 3 days. Highly recommend buying directly from spikeball inc. to take advantage of this guarantee.
12/03/2019
Nick M.
United States
Xl
Great product favorite part about it is playing with a regular size ball and 6 people, keep up the good work
09/10/2019
Josiah R.
United States
Excellent addition to the sport!
I already loved the original version, and this style not only makes it easier for beginners to understand the basics of the game, but it also adds another dynamic for experienced players. We found it easier to do a 3 v 3 game on this net. The ball size also added to the difference! For beginners, it helps slow the game down and make the hand-eye challenge easier with the larger ball. When we originally purchased it the ball had a hole in it when it arrived. The Spikeball team were fantastic at responding and replacing the product. I'd highly recommend this for beginner players and for experienced ones looking for a slightly different challenge. I wonder what else Spikeball has in mind for the future of this game...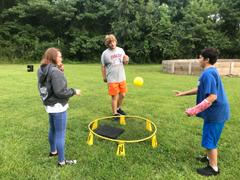 08/02/2019
William G.
Canada
Weird bend
The product tends to bend in an oval shape if you pull on the net a lot, I've tried to keep the pulling balanced on each side but I can't seem to have it right without it bending into an oval, but the set tells you to pull tighter if you want more bounce, however it does work for the purposes, it's just not balanced though
08/05/2019
Spikeball Store
Hey William, Thanks for reaching out to us! I'm sorry to hear about the issue with your set. That oval shape does not sound normal. We're more than happy to replace any damaged, lost, or broken parts - no charge! Please fill out this form, and we will ship the parts ASAP. Parts Request Form [1] Thanks again, and Spike on!
Standard 3 Ball Kit (Best Seller)

shop

Usage

For standard 2 x 2 play; for fun or competitive play.
Longer rallies or to play with more people at once.
Designed for beginners or younger players.
For the serious player that has outgrown the standard set.
Net Size

22in x 18in
45 x 36in
45 x 36in
22in x 18in
Ball Type

Standard (3.5 in diameter)
XL (6.5in diameter)
XL (6.5 in diameter)
Standard (3.5 in diameter)
Legs

5, Collapsable
6, collapsable
6, collapsable
5, collapsable