Customer Reviews
Write a Review
Ask a Question
02/08/2021
Mindy F.

United States
We purchased this as a gift for our 9 year old son, and the size of the net and ball are perfect for his hands and for the rest of the family that is new to Spikeball.
02/03/2021
Sherry C.

United States
5 yr boy loved this
It was easy to assemble and the larger ball and bigger net area helped with learning the basics of Spikeball for the whole crowd of 5-11 yr olds.
11/12/2020
Teresa T.

United States
Beginner
Great! Fun for all ages!
08/25/2020
Bobby S.

United States
Big is beautiful
My offspring watched how much fun mom and dad were having, but were having trouble with the smaller set. The folks at SpikeBall said, "we got you, man" and created this set. The children are our future.
03/01/2020
Evan A.

United States
Ideal for kids
I bought 6 rookie kits to use for a PE unit for 5th and 6th graders. After a week of classes (900 students played), the kits took a beating. I looked at the warranty and was blown away that there is a LIFETIME replacement on broken pieces. This was my dream come true. Customer support replaced my 4 broken legs and I had them in 3 days. Highly recommend buying directly from spikeball inc. to take advantage of this guarantee.
12/03/2019
Nick M.

United States
Xl
Great product favorite part about it is playing with a regular size ball and 6 people, keep up the good work
09/10/2019
Josiah R.

United States
Excellent addition to the sport!
I already loved the original version, and this style not only makes it easier for beginners to understand the basics of the game, but it also adds another dynamic for experienced players. We found it easier to do a 3 v 3 game on this net. The ball size also added to the difference! For beginners, it helps slow the game down and make the hand-eye challenge easier with the larger ball. When we originally purchased it the ball had a hole in it when it arrived. The Spikeball team were fantastic at responding and replacing the product. I'd highly recommend this for beginner players and for experienced ones looking for a slightly different challenge. I wonder what else Spikeball has in mind for the future of this game...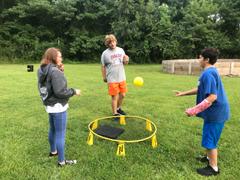 07/05/2019
Matt M.

United States
Great for kids!
It is awesome for the little guys but not awesome for someone who competes. I don't play on our because it will throw off my game
Amazing! Fun! Next Olympic Sport?
Bought this for my nieces and they love it!! So happy to find a game where they can be active, laughing and wanting their friends to play with them!
Spikeball Review
I first found Spikeball at the National Order of the Arrow convention for BSA at Indiana University. The sales reps were informative and excited about this product. I bought 2 Spikeball sets for gifts for family members. Such a creative way to promote body awareness, motor skills, team work and rapid problem solving for young movers and shakers. (PS I am a Physical Therapist)
Rookie Kit
I'm proud to say that the Rookie Kit is helping me bring Spikeball to the younger generation. My three and five year old nieces love Spikeball and might even be better players than their six and seven year old brothers!
Rookie Rebiew
Have enjoyed the rookie Spikeball set. Purchased for grandkids grades 4-7.
Best game for kids
My kids love this game and will play for hours! Best Buy!
We love it!!!
My 8 yr old and my husband and I love Spike Ball! We take turns playing one on one and it is way more fun than I thought it would be!
Rookie Kit Review
I run a camp for kids and always found that regular Spikeball was a bit too difficult for them. The new, bigger Rookie set has solved that problem! The increased net and ball sizes make all the difference!
Great for Beginners
I finally got my Rookie set and had the chance to test it out. This thing is awesome for young kids or people who are just learning how to play the game. The larger ball is a game changer, makes it much easier for those who are younger, or struggle with making good clean contacts with the smaller ball. I have not had a chance to play the 3 on 3 version yet but I think a larger net will make that more enjoyable. I have played with a regular set before and found that things just got far to crowded. One point that that I did not like about the rookie set is that I found it moved much more sliding around, but also hoping off the ground after a hit. This might just be because I am used to playing with the Pro set and not the regular these days, we were also on gym floor it might be less noticeable outside on grass or sand. Regardless this a fantastic product for what its intended to be used for.
| | | | | |
| --- | --- | --- | --- | --- |
| | | | | |
| Usage | For standard 2 x 2 play; for fun or competitive play. | Longer rallies or to play with more people at once. | Designed for beginners or younger players. | For the serious player that has outgrown the standard set. |
| Net Size | 22in x 18in | 45 x 36in | 45 x 36in | 22in x 18in |
| Ball Type | Standard (3.5 in diameter) | XL (6.5in diameter) | XL (6.5 in diameter) | Standard (3.5 in diameter) |
| Legs | 5, Collapsable | 6, collapsable | 6, collapsable | 5, collapsable |