Customer Reviews
Write a Review
Ask a Question
05/04/2021
Matthew G.

United States
Wonderful
Absolutely love it!
05/03/2021
Karsten M.

United States
sick product
it was super fun using it at the beach with my friends but one of them broke it the day it arrived
04/28/2021
stewart o.

United States
lovin it
it is sick as heck. the boys and i love it dearly.
04/20/2021
Teagan H.

United States
So fun!
I am a not-super-athletic person, but I really enjoy playing spikeball. I played with some friends while on a trip and ended up buying my own because had so much fun playing! It's the perfect game to bring to the beach!
04/15/2021
Max L.

United States
04/12/2021
Christopher M.

Hong Kong
the best thing ever
It was great to get back into the game.
04/05/2021
Kelly R.

United States
Great family fun
Great way to have fun and get everyone moving!
03/24/2021
Mark G.

United States
Awesome sport
Today my friends and I all got together to play. Some had not played before, but after a few hours it was some great fun and great competition. This really is becoming an obsession for me!
02/08/2021
Tammy B.

United States
02/08/2021
Andrea D.

United States
Quality customer service and product
Bought this as a replacement for a much loved and used spikeball set. There was a shipping issue (around the Christmas holiday busy time) that the customer service folks at Spikeball addressed and resolved with great speed. The set arrived on time and I'm sure will be as well loved and used as what it replaced!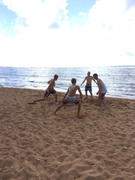 02/03/2021
Patricia T.

United States
What fun! Great delivery!
First, the product came fast directly from the company (faster than those other online companies could do!). Plus, by ordering directly from the company it was less expensive, and Spikeball donates a game to schools with the sales that they do. It is a win-win! The game is a blast and can be played fairly mildly, but also super intensely, it all depends on the players. Have fun and get outside and enjoy other people game.
02/02/2021
Jennifer E.

United States
Second set
We love Spikeball so I bought a second set to send to college with my son.
01/04/2021
Lisa P.

United States
Fantastic Customer Service!
My son is a huge Spikeball fan so I ordered him one for Christmas. When delivery became an issue (no fault of Spikeball), customer service was on top of it immediately from their quick email reply to rectifying the issue. Spike on, Spikeball!
01/04/2021
Allison L.

United States
It never came
So I cancelled it. I don't think it ever left your warehouse based on the tracking info. A few weeks went by after I placed the order. It's a pandemic. I get it. And when I cancelled it went smoothly. I hope you all are well and haven't been hit by illness too hard in your company.
01/04/2021
Judith M.

United States
Don't know!
I haven't received it yet!
01/04/2021
Allison G.

United States
Never received it
Will let you know when I get it
Standard 3 Ball Kit (Best Seller)

shop

Usage

For standard 2 x 2 play; for fun or competitive play.
Longer rallies or to play with more people at once.
Designed for beginners or younger players.
For the serious player that has outgrown the standard set.
Net Size

22in x 18in
45 x 36in
45 x 36in
22in x 18in
Ball Type

Standard (3.5 in diameter)
XL (6.5in diameter)
XL (6.5 in diameter)
Standard (3.5 in diameter)
Legs

5, Collapsable
6, collapsable
6, collapsable
5, collapsable