Customer Reviews
Write a Review
Ask a Question
02/08/2021
Tammy B.

United States
02/08/2021
Andrea D.

United States
Quality customer service and product
Bought this as a replacement for a much loved and used spikeball set. There was a shipping issue (around the Christmas holiday busy time) that the customer service folks at Spikeball addressed and resolved with great speed. The set arrived on time and I'm sure will be as well loved and used as what it replaced!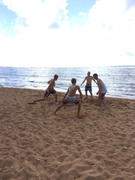 02/03/2021
Patricia T.

United States
What fun! Great delivery!
First, the product came fast directly from the company (faster than those other online companies could do!). Plus, by ordering directly from the company it was less expensive, and Spikeball donates a game to schools with the sales that they do. It is a win-win! The game is a blast and can be played fairly mildly, but also super intensely, it all depends on the players. Have fun and get outside and enjoy other people game.
02/02/2021
Jennifer E.

United States
Second set
We love Spikeball so I bought a second set to send to college with my son.
01/04/2021
Lisa P.

United States
Fantastic Customer Service!
My son is a huge Spikeball fan so I ordered him one for Christmas. When delivery became an issue (no fault of Spikeball), customer service was on top of it immediately from their quick email reply to rectifying the issue. Spike on, Spikeball!
Standard 3 Ball Kit (Best Seller)

shop

Usage

For standard 2 x 2 play; for fun or competitive play.
Longer rallies or to play with more people at once.
Designed for beginners or younger players.
For the serious player that has outgrown the standard set.
Net Size

22in x 18in
45 x 36in
45 x 36in
22in x 18in
Ball Type

Standard (3.5 in diameter)
XL (6.5in diameter)
XL (6.5 in diameter)
Standard (3.5 in diameter)
Legs

5, Collapsable
6, collapsable
6, collapsable
5, collapsable